About the SWR Institute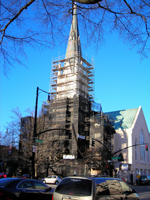 The Sealant, Waterproofing and Restoration Institute (SWR Institute) is a non-profit corporation that began with twelve initial contractor members in 1976 as an organization strictly for commercial contractors. However, in 1977 manufacturers and 1994 design professionals were added as members. Each membership category brings a unique understanding of the sealant, waterproofing and restoration industry. This distinct mix of industry professionals working together towards elevating the standards of the members and industry has been the lynchpin of SWR Institute's success.
By participating in SWR Institute programs, members receive an unbeatable opportunity to learn about current trends and new products, exchange ideas, discuss new methods of application and, most importantly, be included in an excellent network of fellow professionals.
Our Vision
The Sealant, Waterproofing & Restoration Institute (SWR Institute) is the most respected source of knowledge in the sealant, waterproofing and restoration industry.

Our Mission
Through education and fellowship SWR Institute will elevate the standard of practice for the sealant, waterproofing and restoration industry.

Bylaws
Please click on the following link to download a copy of the SWR Institute ByLaws

Download Bylaws

Download Antitrust Compliance Policy