About the Trinity Awards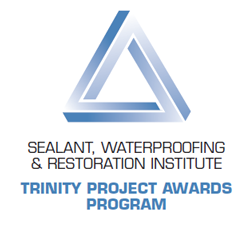 The SWR Institute is proud to offer its members the opportunity to present their projects through the Trinity Project Awards Program. This program provides an excellent venue to not only showcase our member companies but also their very unique project accomplishments as well.
"Trinity" was chosen as the name of this awards program because it defines the key submittal component. That is, we have three projects types (Sealant/Waterproofing/Restoration) and three member classifications (Contractor/Manufacturer/Associate). What sets this program apart from other awards programs is the collaborative partnership requirement. All submitted projects must have been a collaborative effort between an SWR Institute contractor, manufacturer and associate member. We feel this combination represents the 'best in class' for our industry.
All entries that meet the stated criteria will then be judged by a three person panel of SWR Institute peers. (Members of the panel will include a contractor, manufacturer and an associate member). Awards will be presented annually at the SWR Institute's Winter Technical Meeting.
We encourage everyone to partner with fellow SWR Institute members to submit your projects to the Trinity Project Awards Program. The efforts could result in winning this elite award and provide your company well deserved national recognition.
For Full Details:
Download Brochure