Project Category: Joint Sealants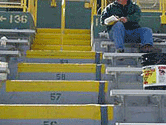 The storied history of the Green Bay Packers is rich with evidence of thoughtful decisions that have preserved the organization's stature, vitality and viability.
Central to the team's identity is its stadium complex. Opened in 1957, the structure that would in 1965 be renamed Lambeau Field after the passing of one of the teams founders, remains at the core of the facility. A $295 million redevelopment completed in 2003, expanded the role of the structure from a seasonal stadium to a year-round multiuse cultural, tourist and fan destination. The forethought of the fan-owners and management to preserve the original seating bowl is evident in the stadiums timeless elegance and well-deserved claim as the "crown jewel of the National Football League".
Ongoing maintenance of any stadium facility will inevitably have watertightness as a central issue. As purposely designed gaps in the structure, called expansion joints, are a principle point of water leakage.
Liquid-sealant and backer rod (the most prevalent choice of joint sealant) suffers major limitations. The presence of tensile stresses at the bond line and within the sealant elastomer during joint opening often result in either adhesive or cohesive tearing.
While the upfront cost of liquid sealant and backer rod is low, the labor to remove and replace this technology just once, will far outweigh the installation of a more durable alternative.
The Packers are joining dozens of other stadium owners in exploring the notion of a different approach to joint sealing with the installation in some of its seating bowl joints after the 2006 season of the DSM SYSTEM from EMSEAL--a preformed, precompressed, silicone and impregnated foam hybrid sealant.
Back To Project Catalog
Members! We would love to feature your project on our website. Doing so showcases the great work that SWR Institute members do. If you're interested in showing off one of your restoration, application or any other type of projects; send a detailed project description along with photos to info@swrionline.org