Project Category: Joint Sealants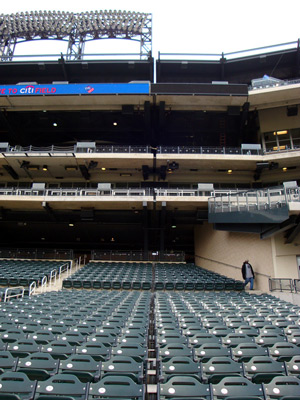 Mets CitiField is Part of EMSEAL "Triple-Play" in NY Sports Arena Expansion Joint Sealing
(New construction 2009)

With the Mets, Yankees and Jets/Giants getting new stadiums, New York City was a hot-bed for sports assembly construction through 2009. The task of making ALL THREE of these stadiums watertight at the structural expansion joints fell to expansion-joint manufacturer, EMSEAL of Westborough, MA.
Structural expansion joints are design elements necessary for accommodating movements within structures.
These movements are caused by thermal changes, wind, dynamic loading and unloading, and seismic forces. Even an enthusiastic, 42,000-fan-driven "wave" can cause differential vertical deflection at stadium expansion joints.
Because expansion joints bisect the entire structure, they are essentially a gap through every element of the building--floors, walls, foundations, roofs, bathrooms, suites, waterproofing, and structural supports. As such, these gaps through the building must be made watertight and insulated while at the same time must accommodate movement and traffic over the joint material.
Stainless steel coverplates take the traffic and protect the underlying silicone/self-expanding foam sealant waterproofing and anchoring system of EMSEAL's unique SJS SYSTEM.
The SJS SYSTEM was chosen for Citifield as well as the new Yankee Stadium and the new Meadowlands stadiums because it is watertight, quiet, can handle 100% of nominal size movements, and features non-invasive anchoring.
Continuity of seal is the most overlooked aspect of expansion joint sealing. EMSEAL's entire philosophy is driven by ensuring that joints do not leak at changes in plane and direction--whether within one system or between technologies.
Achieving water proof expansion joints in complex structures like stadiums requires an integrated approach where all of the stakeholders take responsibility for their aspect of the work and communicate thoroughly throughout the design and construction process.
Transitions from the tread and riser joints in bowls to parapet walls is an area that exemplifies the importance of technology selection that is capable of maintaining watertightness. EMSEAL's SJS SYSTEM transitions to EMSEAL's SEISMIC COLORSEAL at a watertight transition.
In stadium concourses, the SJS SYSTEM handles the high point loads of small-wheeled keg carts; ice-filled, food and beverage concession wagons; fork lifts, utility lifts and of course the millions of fan footfalls per game.
Because the stainless steel coverplates are anchored to the foam-suspended central spline of the SJS SYSTEM, there are no metal contacts into the adjacent concrete. And, because the coverplates ride on a cushion of EMSEAL's tough, resilient, but flexible and sound attenuating polyurethane nosing material, the SJS SYSTEM is not only watertight but arguably the quietest seismic expansion joint available as well.
Transitions from bowl-to-concourse and concourse-to-interior walls all require to be watertight. Not only does the SJS SYSTEM transition to the SEISMIC COLORSEAL in the walls, but within the run of the vertical rise, color coordination with wall surface color changes is possible through a wide color range.
(Note: Since completion of CitiField, EMSEAL has announced the availability of EMSHIELD WFR2 . This 2-hour UL fire-rated wall joint system would look the same as in the picture to the left, but adds built-in 2-hour, life-safety, fire protection).
Color coordination of SEISMIC COLORSEAL makes the expansion joint virtually invisible between the dissimilar brick and curtain wall substrates in this condition .
As in SJS, non-invasive anchoring is a hallmark of SEISMIC COLORSEAL. This feature makes it possible and practical to install at inside corner conditions.
By contrast, older-technology "strip-seal" systems that rely on aluminum receiving channels screwed into the joint faces could not be expected to be watertight in these conditions. Nor would strip seals insulate the joint at all. SEISMIC COLORSEAL with an R-Value of 3.28 per inch of depth, not only keeps the water out but HVAC in.
The finished installation is aesthetically compatible, continuity of seal through the changes in plane and direction is maintained, and the SJS SYSTEM and SEISMIC COLORSEAL ensure watertightness, while accommodating joint movement free of tensile stresses within the expansion joint sealants and free of any hard, brittle, noisy, metal-to-concrete anchors or connections.
Revenue loss in affected concession areas, damage to equipment in storage rooms, disgruntled athletes and suite patrons, and exorbitant repair costs are all consequences of leaks at expansion joints.
Elimination of these problems in new sports, assembly, convention and performing arts venue construction as well as in retrofit of existing structures is a central focus of EMSEAL's.
The company's unique approach to sports facility expansion joint treatment combines innovative materials technologies with a fresh look at the roles of owners, designers, general contractors , manufacturers and subcontractors, in achieving trouble-free expansion joints.
The approach is grounded in an integrated, collaborative process centered on joint treatment that requires all of these parties to think, design, detail, specify, construct, fabricate, and install three-dimensional solutions .
Back To Project Catalog
Members! We would love to feature your project on our website. Doing so showcases the great work that SWR Institute members do. If you're interested in showing off one of your restoration, application or any other type of projects; send a detailed project description along with photos to info@swrionline.org