Project Category: Joint Sealants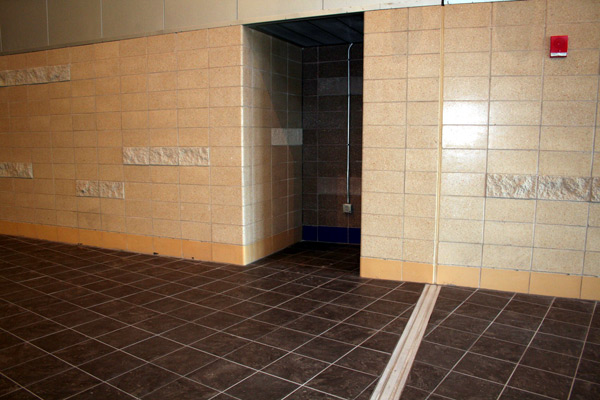 While it would be a stretch to suggest that the expansion joints chosen for the makeover contributed to "feel" of the ballpark, they nonetheless are integral in ensuring the experience is not dampened by leaks and drafts.
EMSEAL is no stranger to Kaufmann Stadium. The association began over 10 years ago when THERMAFLEX was used to retrofit failed joints in the concourses. This time around, EMSEAL's vastly expanded stadium expansion joint product selection provide the designer and owner with options to suit multiple conditions.
The Royals are joining dozens of other stadium owners in benefiting from EMSEAL's DSM SYSTEM --a preformed, precompressed, silicone and impregnated foam hybrid sealant. DSM was selected for areas where no blockouts existed in the concrete floors. It was expedient to lay tile up to the joints and install the DSM SYSTEM into the finished joint gaps. Watertight transitions around columns were easily executed in the field.
The DSM SYSTEM coordinates well with the color scheme of the stadium and ensures a durable and watertight joint filler.
Access tunnels, accessible routes, and other areas where heavy loads and high point-loads have previously deteriorated lesser systems, EMSEAL's FS 135 MIGUTRANS joint was deployed.
The FS 135 series provides a smooth rolling surface regardless of its width and not only can it open and close with thermal changes, the FS 135 is capable of omni-directional motion caused by load transfer, shear and other forces.
Transition to the vertical-plane wall joints was handled with COLORSEAL
Even close-up COLORSEAL with its tensionless silicone bellows chosen from a wide color selection blends unobtrusively with the polished and textured concrete block substrates.
Looking good is one thing. Performance is another more serious matter altogether. COLORSEAL seals and insulates joints.
It features non-invasive anchoring--no screws that violate substrate integrity.
It is also free of any other metal components like rails that impart a thermal bridge in the wall system.
COLORSEAL, with an R-value of 3.28 per inch of depth, ensures that external weather is held at bay while HVAC climate control is properly contained inside the building.
Transitional areas from covered concourses to open-air concourse where existing joint gaps were larger than 4-inches (100mm) and where blockouts in the concrete already existed, were treated with EMSEAL'sTHERMAFLEX system.
THERMAFLEX features heat weldable Santoprene seals locked to the concrete with a unique flexible, impact-absorbing nosing material.
"Premold", "wide joint", "tee joint" are all names used to describe a joint sealing technology beyond which the industry has largely evolved.
The shortcomings of the system are cohesive failure in the wide, molded, polyurethane bridging elastomer (Left), and humping up of the system in the summer when the joint closes down. "Humping" creates a trip hazard and can also shorten the service life of the system when traversed by wheeled traffic.
As a cart, or vehicle crosses the joint the humped up elastomer is gathered in front of the wheels and then pinched as the wheels leave the joint.
This leads to fatigue and eventual bursting of the premolded elastomer.
The lasting alternatives to "premolds" are, for solid-slab decks, THERMAFLEX or SJS SYSTEM.
For split-slab decks (decks or concourses with a buried, structural, waterproofing system) MIGUTAN or SJS-FP are the alternatives.
At Kauffman Stadium, premolds were replaced with THERMAFLEX. Factory-fabricated, welded and reinforced transitions ensure watertightness in changes in direction in the joint system. This feature is possible through the engineered, custom solutions approach of EMSEAL's geographically dedicated tech team and also by the choice of Santoprene thermoplastic rubber as the base material of the THERMAFLEX systems.
This contrasts with thermo-set Neoprene and EPDM based systems that are incapable of being welded and therefore ineffectively rely on glues or topical application of liquid sealants in attempts to ensure watertightness at directional changes.
Revenue loss in affected concession areas, damage to equipment in storage rooms, disgruntled athletes and suite patrons are all consequences of leaks at expansion joints. Energy loss, structural deterioration, and costly repairs are all the result of short-term thinking in expansion joint selection.
Elimination of these problems in new sports venue construction as well as in retrofit of existing structures is a central focus of EMSEAL's.
The company's unique approach to sports facility expansion joint treatment combines innovative materials technologies with a fresh look at the roles of owners, designers, general contractors, manufacturers and subcontractors, in achieving trouble-free expansion joints.
The approach is grounded in a collaborative process centered on joint treatment that requires all of these parties to think, design, detail, specify, construct, fabricate, and install three-dimensional solutions.
Back To Project Catalog
Members! We would love to feature your project on our website. Doing so showcases the great work that SWR Institute members do. If you're interested in showing off one of your restoration, application or any other type of projects; send a detailed project description along with photos to info@swrionline.org